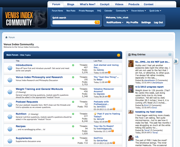 Introducing the best feature of Venus Index – The most honest and friendly fitness community in the world!
"If it wasn't for the community I would never have won the fitness contest" is a common thing to hear from our contestants. The Venus Index community is a strong a supportive community of strong supportive women.
A positive supportive community of like minded individuals is the key to success, nobody can do it alone.
Membership in this community will give you a rich environment full of caring, motivating and supportive women just like you. You'll find quick answer to any of your questions with different perspectives and approaches from multiple members. The Best Part? Buy any VI System and you get access for free.
[Start Here]